Iberian ham trade fair
In this post we are going to talk about the Iberian ham trade fair so that you know the ones that are going to take place during this year. As many of you will know, the Iberian ham trade fair is held throughout the year. These trade fairs are held to promote the different Iberian hams in each area and that buyers have the possibility to see the different options and variations of the Iberian ham they have at their disposal.
But not only trade fairs are held, there are also different competitions that we will also talk about in this post.
Therefore, here we leave you the Iberian ham trade fair, so you know where you can discover new companies in the sector promoting their products.
Iberian ham trade fair in Aracena
The Iberian ham trade fair in Aracena is the best opportunity for all those companies dedicated to the production, sale or distribution of Iberian ham. Since this trade fair is visited by thousands of people, who are going to meet these companies to decide which Iberian ham is better to buy. Therefore, this is your opportunity to promote your Iberian products.

This Iberian ham trade fair in Aracena also has an Iberian ham cutters contest. Likewise, a tasting of Iberian products is carried out. Raffles are also held as thanks to the people who come to visit it from different parts. It is a good time to take advantage and make the Route of the Iberian tapa. There, you can taste several products of the Iberian pig.
As we have said, the Iberian ham trade fair in Aracena attracts thousands of tourists from all over the world. Therefore, it can also be a good option to open your business to the international market.
Iberian ham trade fair in Los Pedroches
This fair takes place in October in Villanueva de Córdoba. Like the previous one, different companies dedicated to the sale, production and distribution of acorn-fed Iberian ham come to it.

In this ham trade fair in Los Pedroches, two very important competitions are held. One of them is the National Ham Cutters Contest and the other one Best Iberian acorn-fed ham Contest. In addition, it is enabled with a point of sale where you can buy the best Iberian hams in the area. You can also enjoy the tasting of these Iberian products.
Iberian ham cutters contest in Talavera de la Reina
This year the third edition of this contest is celebrated. This year, in addition, it is a qualifying contest for the national contest that will be held in 2020. It will be organized by the National Association of Ham Cutters.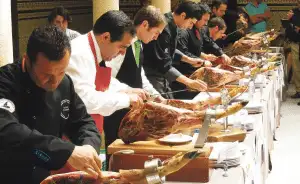 In this contest of ham cutters different aspects are taken into account. For example, the profiling of the piece, the cleaning, the straightness of the cut, the thickness of the slices, and the presentations among others.
Other events
Finally, we want you to know that there are other events where we will also find promotion of these Iberian products. Nevertheless, they are not fairs dedicated solely to Iberian ham. Some of these may be:
– IFEMA, which is a trade fair held in Madrid.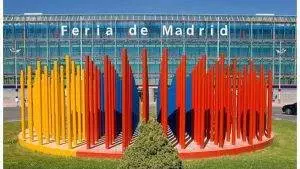 – Alimentaria, which is a food trade fair held in Barcelona
We hope you have found all this information about the Iberian ham trade fair useful. Do not miss the opportunity to go to any of them to enjoy the best Iberian ham.