The 10 best Spanish meals
In this post, we bring you the 10 best Spanish meals. You can enjoy them if you are in Barcelona or Madrid or even if you are in another country and want to make them.
From delicious tapas, to traditional stews, food in Spain is based on the best local products.
Therefore, we recommend you not to leave Spain without trying…
Gazpacho
The mixture of the chopped red tomatoes, olive oil, garlic, bread, pepper and zucchini, all crushed, results in a cold cream smooth. Once it is cool, served in a bowl or glass. It is a very refreshing and delicious recipe. In Andalusia, southern Spain, people usually take it in summer days and you can always try it at any bar. Try also the Salmorejo from Córdoba, a thicker version that serves with pieces of Iberian ham and hard boiled egg on top.
Paella
It is very typical of the province of Valencia. Here, they ensure that you can eat a different rice dish every day of the year, but we will keep the more traditional version. The ingredients of Valencian paella include chicken or rabbit, saffron and green beans, but the most important element is rice. The ideal is the pump or varieties of Calasparra, which grow on the east coast of Spain. This rice is special because it absorbs all the flavors.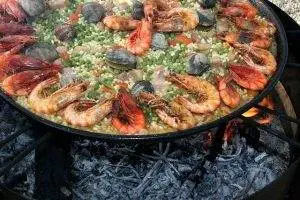 Spanish omelette
Eggs, potatoes and onion … that's all. Some people consider adding onion to be a high-grade gastronomic crime. However, many others adore it. The potatoes and onions are simmered in olive oil and then mixed with beaten eggs so that the flavors are mixed before cooking. Add sausage, ham, spinach, zucchini or any other ingredient you have on hand to make a tasty meal in no time.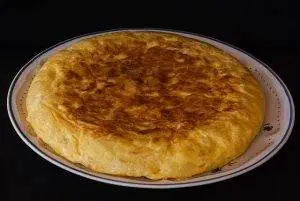 Gambas al ajillo
You enter a tapas bar, the waiter serves the customer a ceramic bowl with crackling shrimp (gambas al ajillo). The tempting aroma reaches your nostrils and you have to ask for another lid for yourself. To recreate it at home, fry some chopped garlic and chilli in olive oil. Pour them over the prawns for a couple of minutes and add some parsley. It can't be easier, nor can it be any better.
Tomato and ham toasts
Black pigs roam the holm oaks in western Spain in search of acorns. This diet gives the Iberian ham its magenta color and its characteristic flavor. Add garlic and tomato on several toasts, pour a little olive oil on top with slices of ham for a quick and delicious lunch.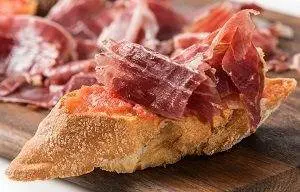 Patatas bravas
Patatas bravas vary slightly around the country, but all versions contain sliced potatoes. In Madrid, brava sauce is made with sweet and spicy paprika (Spanish paprika), olive oil and flour, but never tomato. Some add garlic, while more jealous others insist on keeping the ingredients secret for them.
Pollo al ajillo
All Spanish will tell you that the best chicken (pollo al ajillo) with garlic is that of his grandmother. And of course, they are right. Unpeeled garlic heads are fried in olive oil for flavor, then removed before adding the chicken pieces. When done, turn the garlic heads with rosemary, thyme and a little fine or white wine. However, there is no definitive recipe for this much-loved dish.
Cochinillo
People can tell you that you are going to Segovia to see its incredible Roman aqueduct, the fairytale castle or the elegant cathedral, but in reality, all that is to whet your appetite for lunch, which is a roast pig or piglet . The meat is cooked in wood ovens and is so tender that it is cut with the edge of a ceramic plate.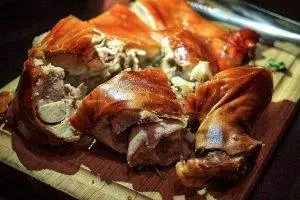 Pisto
The Spanish version of the ratatouille appears throughout the country in different stews, but it is more typical in the cities and towns of the plains of La Mancha and southern Madrid. Onions, garlic, zucchini, peppers and tomatoes are simmered with olive oil. It is not a dish that can be made if you are in a hurry because it takes time. Sometimes it is served as an entree, other times with fried eggs or Spanish Iberian ham, but it is also ideal to serve as a side dish.
Turrón
The Spaniards devour massive amounts of nougat (turron) at Christmas, although it is available throughout the year. Most are made in the small town of Jijona, in the province of Alicante, using almonds from local plantations mixed with honey and white egg. There are two types: a softer and more tender version, called Jijona, and a hard one, Alicante nougat, which contains almond chips.
After reading the 10 best Spanish meals… are you going to stay without coming on vacation to enjoy them?