THE 5 BEST WAYS TO EAT IBERIAN HAM
In this post you can learn about the 5 best ways to eat Iberian ham and Iberian cold meat, so you can appreciate the taste of a high-quality Iberian ham. You will also learn not to mix it with other flavors so you can enjoy it to the fullest. For example, if you are Scottish it would be like drinking a good bottle of Talisker with Coca-Cola. As with whiskey, with Iberian ham there are better ways to enhance and enjoy the flavors.
These are some of the ways we recommend you:
Just Iberian ham
If it is the first time you try Iberian ham or Iberian cold meat, the best way to enjoy and eat the meat is to try it without any accompaniment. The best way to try it is to take a slice that should be thin and sweaty. Eat it all, including fat and let the nuances and textures be pleasant for your taste buds. Once you finish eating, allow yourself time to enjoy its prolonged taste. To clean the palate, a fruity and fresh white wine will prepare your taste buds for the next slice. To enjoy the best experience, you need to invest in the best of all hams, Iberian acorn-fed ham or shoulder and if it's black leg much better.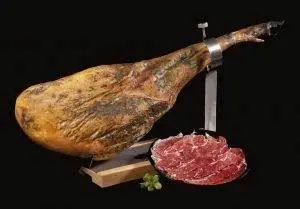 Also, if it is the first time you eat Iberian ham, be sure to also take a look at the different types of hams. The flavor will vary depending on the ham you are eating.
Steak with Iberian ham
If you want to add a special touch to your dinner, Iberian ham accompanied by a good steak is the perfect combination. It is common for debate about which meat is best suited to eat at night, but what we are clear about is that it is not if it is quite difficult to chew. We recommend you try this recipe, surely you do not regret it:
Cut some potatoes into wedges. Boil water with a little salt and olive oil. Once the water boils, add the potatoes and leave them for 5 minutes with a pinch of salt. Then, put them in the oven until they are crispy. Cover the steak with salt and pepper and cook on both sides until it is at its perfect point. Once ready, let it rest on the plate 2 or 3 minutes. Now comes the best: add the Iberian ham over the steak and pour a teaspoon of quince meat on top. In this way, you will enjoy a good steak contrasting the flavors of salted ham and sweet quince meat. It is wonderful.
Bread with tomato and olive oil
This is a classic, especially in Catalonia. This is perhaps the most famous way to enjoy ham. Although it is quite simple, it does not mean that it is not spectacular. Simply toast a slice of bread, crush some tomato and spread it on the bread before pouring some extra virgin olive oil. All he needs now is salt and one slice after another of Iberian ham from Jabugo above.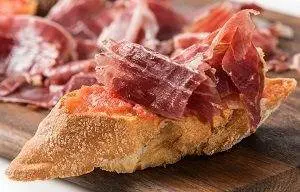 Sandwich
Perhaps you may think that the typical sandwich that we all eat as children is nothing of the other world, but you are wrong. This is amazing. All you need is a baguette of freshly baked bread or sliced bread, crushed tomatoes, olive oil, salt and some slices of Iberian ham or Iberian cold meat. The soft bread contrasts perfectly with the delicious ham. One of these snacks with a good cup of coffee in the morning is the perfect remedy for any of your problems. To get an even more pleasant taste, you can add some Manchego cheese in the sandwich.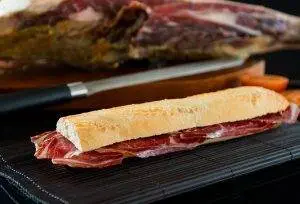 In good company
When something happens to you in life, there is no better feeling than sharing it with your loved ones. Hanging out in good company is, of course, the best way to enjoy ham. If you or your friends buy a ham leg and cut it together. Then eat it with bread, the experience of sharing is what makes ham special.
We hope you try some of these 5 best ways to eat Iberian ham or Iberian cold meat and enjoy it.